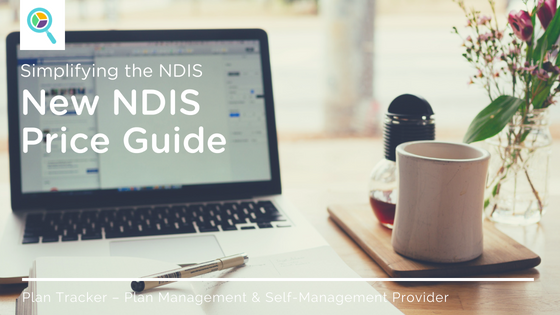 Attention all NDIS participants, families, carers and support workers, just in case you missed it – the NDIA has released the long-awaited 2018/19 Price Guides. So let's take a look at what's changed and what you need to know.
Changes to pricing.
All prices, except Therapy, have increased as follows:
4.5% increase in prices applied for Personal Care and Community Participation
Average of 1.94% increase in price levels for all other supports that are subject to growth in wage costs
2% increase in price loadings for the delivery of supports to participants in remote and very remote regions (new loading: 20% in remote areas and 25% in very remote areas).
What about flexibility changes, are there any?
Nope – the flexibility of funds remains as follows:
Core funding is flexible across all categories, meaning that budgets for Assistance with Daily Living, Transport, Consumables and Assistance with Social and Community Participation can be used interchangeably.
Capital funding is not flexible at all and most items are subject to quotes
Capacity building funding is flexible at the Support Category level, meaning you can claim the different line items under the category interchangeably, but you cannot spend across categories.
It's all in the details – let's take a look at line items.
All of the line items in Core and Capacity Building that were listed as "Varies" or "Quote", have been removed from the .PDF and .DOC versions of the Price Guides. This includes:
Assistance from live-in carer
Linen service
Community, social and recreational activities (e.g. entrance fees)
Assistance in individual living arrangement for person with complex needs
Assistance in living arrangements (host family/alternative family situation)
Innovative Community Participation
Community Participation Activities (e.g. Scouts)
Transdisciplinary early childhood intervention
Multidisciplinary team
IMPORTANT: This is simply a cleaning up of the Price Guide to remove items that were funded by individualised quoting. This does not mean that they will no longer be funded in Plans, as all items are still listed in the .CSV (Spreadsheet) version of the Price Guides.
Assistance in Specialised Support Employment Levels 1-4 have also been removed. These have not been listed in the .CSV Price Guide.
What about provider travel?
The rules for provider travel have not changed, however, the maximum allowance for ECEI travel has been set at $3000 per annum, otherwise subject to the same travel rules as other therapies.
Any other changes I should know about?
Therapists can now charge for up to two cancellations per participant per year, for sessions of no more than 2 hours.
The NDIA has also amended their interpretation of core support shifts to align with industrial requirements. They have added '…and the evening rate applies to the entire shift' to their description of evening rates. This is a significant change as the previous interpretation did not take that into consideration and services had to either split shifts or just incur the costs for this.
When do the new Price Guide changes come into effect?
The new prices will take effect on July 1, which means that providers can charge up to the new prices for all services delivered after this date. A word of warning though – if you have service agreements with participants that outline the prices to be charged as per the former Price Guide, these will need to be renegotiated before the higher prices can be charged.
Will my funding increase in line with the price increases?
The NDIA have clarified that participant plan values will be automatically adjusted in line with the price increases.
For Plan Tracker participants, the following will occur:
Self-Management App Users – we will be posting a series of tutorials covering how to easily update your budgets & planned spending inside your Plan Tracker account. Please check our blog or facebook page for links.
Plan Management Clients – our dedicated Plan Management accounts team will be reflecting any budget/price increases that affect your plan, in line with the updates when they go live on July 1st, 2018.
Where can I view the New NDIS Price Guide?
To see the new Price Guides, visit https://www.ndis.gov.au/providers/pricing-and-payment
Have questions? Need a hand? Our friendly team is here to help ~ simply call 02 4339 7861 or contact us via email here.
*Note – content is correct at time of Publishing and may be amended in line with any updates from the NDIA.