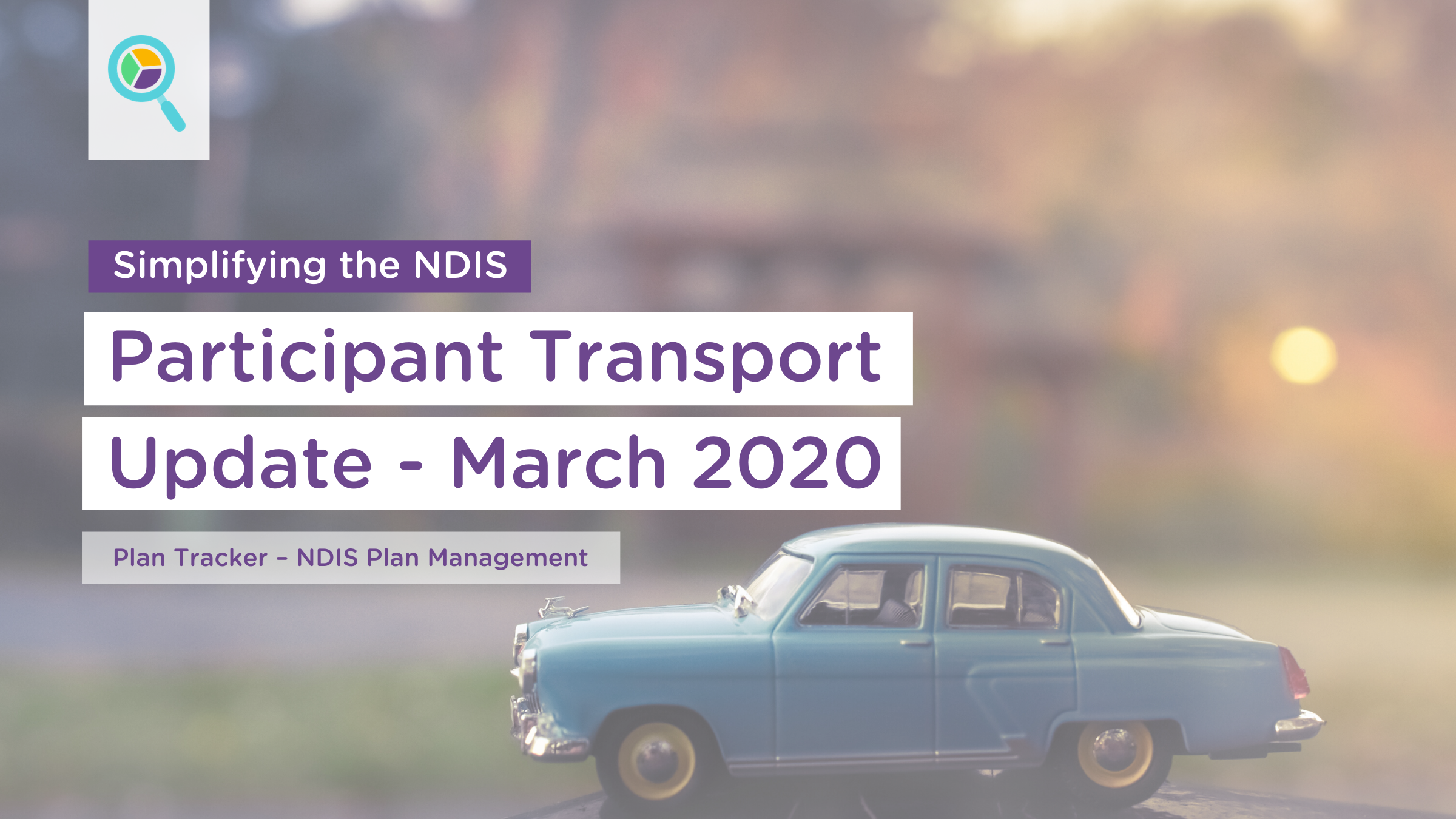 Stranger things may be happening Australia, ahem #toiletpapergate, but this is pretty high up there in the land of NDIS! By our count, this is the third update from the NDIA in under twelve months impacting how transport funding works for NDIS participants, their families, and providers. So, you'd be forgiven for getting a little lost in all these changes, but rest-assured the Plan Tracker team is here to help bring clarity to the confusion. 
The information in this article has been sourced from the NDIA website, you can read the full update here  – Understanding the Price Guide
What's changed & how does it affect me?
A new price guide was released on March 1, 2020. According to the guide, you may now make claims for participant transport costs, such as mileage, parking and tolls, when you are also engaging in an NDIS funded activity.  
The key thing to help you know when transport can be claimed is that transport may only be claimed when it occurs with an NDIS funded activity and is delivered by one Provider. 
So, can I claim for kms when I go shopping with a support worker?
Yes, if the transport and the shopping time is on the same invoice from the same provider. 
So, can I claim for kms when a transport provider drops me to my sister's place?
Unfortunately not, the transport costs may only be claimed if the support worker time is also being paid for. 
Can my provider charge for transport automatically?
Your provider can start charging for transport, but they need to "discuss with you and explain any transport costs such as reasonable vehicle running costs or other associated costs before you are charged."
How much can I expect to pay?
The NDIA has provided reasonable transport costs, see below, but it's important to note that transport costs are not price-controlled. The NDIA guidelines are as follows:
up to $0.85 a kilometre for a vehicle that is not modified for accessibility

up to $2.40 a kilometre for a vehicle that is modified for accessibility or a bus

other forms of transport or associated costs up to the full amount, such as road tolls, parking, public transport fares
Noting that this does not allow for payment of fines or other similar costs.
What happens if my provider charges more than 85 cents a kilometre? 
While the new transport line items are not price-controlled, the NDIA guidelines for reasonable non-labour costs (see above) can be used by participants and providers to discuss and agree on charges. Providers cannot charge more than participants have agreed to pay and participant retain the right to exercise choice and control over how they spend their NDIS funds and which providers they choose to deliver their services.
—
As you can see, whilst there's definitely more flexibility in transport in this long-awaited price guide update, there are also some limitations. You can only pay for transport to places where you will be supported by the transport provider. So unless your taxi driver is also your support worker, the taxi fare won't be covered. 
NB: if your transport budget is plan managed, rather than receiving a fortnightly allowance paid directly to your bank account, then your Plan Manager is also able to claim your transport only costs.
On the upside, even if you do not receive a transport allowance under your core funding, you may be able to take advantage of these changes by combining transport with NDIS funded activities – which in itself is going to make a huge difference for many participants. 
Questions? Give us a call 1800 549 670 or join the conversation in our Facebook group – NDIS Plan & Self Management Community
Looking for a NDIS Plan Manager? Learn more here.