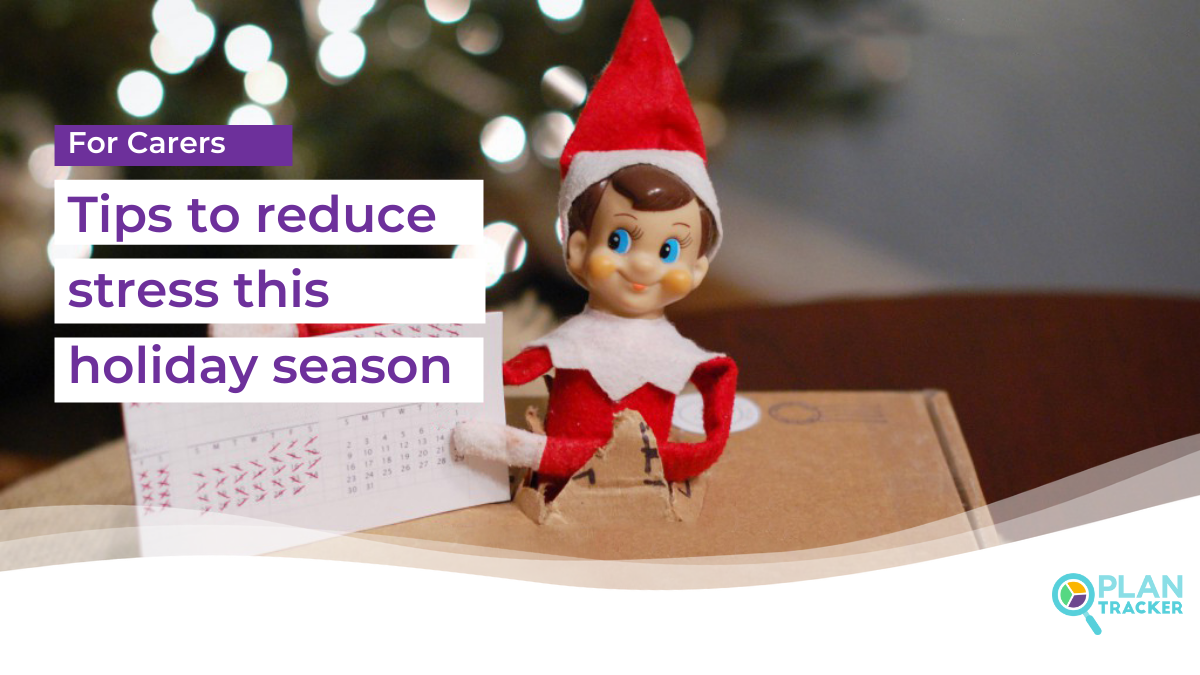 The Christmas season is here again. Like last year though, it has been another difficult one for many people.
For some, including carers, there may be extra pressure to celebrate now that some restrictions have eased. Not everyone will be comfortable though, after lockdown, maybe after illness or isolation. Well-meaning family and friends may unintentionally put pressure on us to join in activities which can add to our stress, especially if your 'tank' is low either emotionally, mentally or even financially.
Below are some ideas which may help you and your family:
Keep it simple – You could be forgiven for thinking everyone (at least on social media) is having a perfect Christmas! After another difficult year, it might be time to take the pressure off (yourself) and keep things as simple as possible. Smaller gatherings, pre-prepared food, limited gift exchanges etc.
Plan – If the person you provide care for is happier with routine, build the Christmas period around everyday activities such as mealtimes. If being spontaneous is OK, then of course accept the invitation!
Be gentle on yourself – Be realistic about what you can and can't fit in. Avoid becoming burnt out by not doing everything everyone expects (even though you might want to, or they expect you to).
Check Christmas opening/closing hoursfor your local GP, pharmacy and any other services you regularly use. You probably already have their contact details and maybe they've been proactive and already let you know. One less thing to have to worry about.
Take a break – hopefully there's someone (or maybe more than one) that can take over your caring responsibilities, even if it's for a short time. If you can manage a break, even a short one, use it to do something nice for yourself (please don't do the housework, unless of course you find that relaxing). If there's no one in your network to take over, formal respite care may be an option. Visit the Carer Gateway How to get respite | Carer Gateway for information.
If you're looking for other ideas or support for yourself or a loved to reduce stress and anxiety during the festive season, Beyond Blue has some great blogs on wellbeing, mindfulness, and keeping connected. Wellbeing (beyondblue.org.au)
If you need to talk with someone, please call:
Beyond Blue 24hour phone line – 1300 22 46 36
Lifeline phone 24hour phone line – 13 11 14
Mental Health Emergency Response Line: 1300 555 788
Men's Line: 1300 789 978
We wish you all the best for a restful and happy festive season, whatever that means for you and your family.
Questions?
If you are supporting a Participant who is Plan Managed, we have a page made just for you. Check out our 'Information for Providers' page here or give us a call 1800 549 670.
Important Note – It's important always to seek independent financial advice from your accountant or financial advisor.
Need a hand?
Chat with our team.
Whether you're looking for a Plan Manager for yourself or a loved one, have a question or would like to refer a participant, our friendly team is here to help!